I've been sick recently so naturally I've been on Hulu whenever possible. Here are (I believe) the top 5 best characters on TV right now:
1. April Ludgate (Aubrey Plaza)—The dark one on Parks and Recreation. My favorite parts are when they bring her Puerto Rican nationality into the show, or when they feature her relationship with husband Andy.
2. Burton "Gus" Guster and/or "The Super Sniffer" (Dule Hill)—Shawn's best friend on Psych. Whenever Shawn introduces him, it's under different aliases, and their friendship is always on hilariously on point.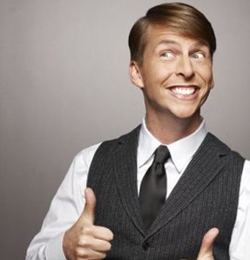 3. Kenneth Parcell (Jack McBryer)—If you ever watched 30 Rock you know that this NBC Page's backwoods background and devotion to his job makes him the most hilarious person on that show.
4. Penny Hartz (Casey Wilson)—Does anyone remember Casey Wilson from SNL? Me either. As Penny on Happy Endings though, she's awesome, although her lack of a forehead bugged me for a while. Also, it was my New Years Resolution to get everyone to know the awesomeness of watching Happy Endings. Watch it!
5. Sheldon Cooper (Jim Parsons)—I think everyone knows that Big Bang Theory would not be as popular without this character. Thanks to my mom for being an EBD (Educational and Behavioral Disorder) Teacher, I find special interest in picking up all his autism spectrum behaviors. Spot on.